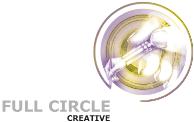 © 2011. Full Circle Creative


Whether you've found us by chance or have been recommended - Welcome to Full Circle Creative. This is a quick access site which means you can be on your way in a couple of minutes. If you're looking for graphic design then hit the yellow button to view some of our work. If you think there's a project we can help with, please contact us. Don't worry if you're further afield as we work for clients around the UK, serving Europe, Asia, the US and Australia. Our name gives an idea of our flexibility and reflects the territory we cover, too. Local yet global, you could say.
The partners are award winning designers who have worked for national, international and global companies both here and overseas in the fields of Advertising, Graphic Design and Product Packaging.